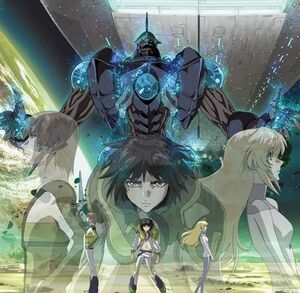 Heroic Age (ヒロイック・エイジ Hiroikku Eiji) is a mecha based anime directed by Toshimasa Suzuki. It is produced by XEBEC and airs on Japanese networks such as TV Tokyo and TV Osaka. The series first aired on April 1, 2007, and is now completed with a total of 26 episodes, the last of which having aired on September 30, 2007. On July 23, 2007, a manga adaptation began serialization in Kodansha's Magazine Z. Though the story will be the same, it will be told in Iolaus' point of view. Five official guidebooks will also be published and will have consecutive monthly releases from July to November 2007.
The story's theme is based on stories in Greek mythology, especially those surrounding Heracles, upon whom the main character is based, and his Twelve Labors. Many of the other characters are also based on some figures in Greek mythology; characters share similar names to their Greek counterparts, and how their relationship is defined with others correspond with Greek stories. The title of the series, Heroic Age, is also a slight testament to the similarities to Greek mythology, referring to the time of the Heroic Age. The tribes featured in the anime are loosely based on Hesiod's Five Ages of Mankind.
Ad blocker interference detected!
Wikia is a free-to-use site that makes money from advertising. We have a modified experience for viewers using ad blockers

Wikia is not accessible if you've made further modifications. Remove the custom ad blocker rule(s) and the page will load as expected.