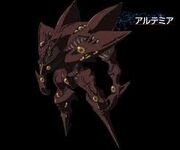 Artemia (
メヒタカ・ポレ) is Mehitak´s Nodos spirit.                                                                                                      
 Story                              
---
Artemia also possesses the ability to turn its body into energy, which can reflect or refract energy weapons. However, it is vulnerable to gravity-based laser beams. Mehitak will not eat anything with a 'life', instead drawing sustenance by consuming raw matter such as metal. Artemia's power is thought to be Light, but is then revealed to be Waves (energy fluctuation). 
Ability
---
Artemia, is capable of firing massive energy beams which can engulf entire planet 
Ad blocker interference detected!
Wikia is a free-to-use site that makes money from advertising. We have a modified experience for viewers using ad blockers

Wikia is not accessible if you've made further modifications. Remove the custom ad blocker rule(s) and the page will load as expected.